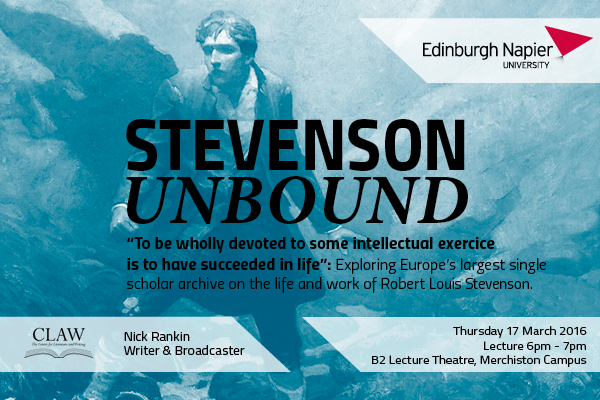 Edinburgh Napier University's Centre of Literature and Writing,
requests the pleasure of your company at a lecture on the
Ernest Mehew Robert Louis Stevenson Collection
by Nick Rankin, Writer and Broadcaster.
In 1983, Nick Rankin read Stevenson's Fables to the blind Argentine writer Jorge Luis Borges and was commissioned by Faber to write his first book, Dead Man's Chest: travels after Robert Louis Stevenson, which took him from Scotland to Samoa. While writing it, he first met the civil servant Ernest Mehew, who was editing the definitive 8-volume Letters of Robert Louis Stevenson for Yale University Press and knew more about the Scottish writer than anyone else on earth.
Nick will give a short lecture on this rare collection of Robert Louis Stevenson's papers, First Editions and other materials which is now housed at Edinburgh Napier University, and is being catalogued and made accessible to the public in a dedicated space, thanks to a generous bequest from The Mehew Estate, and PhD funding from the Dr David McNeil Summers Charitable Trust.
Date: Thursday 17 March 2016
Time: Lecture 6pm – 7pm
Venue: B2 Lecture Theatre, Merchiston Campus
The event is free but please register your attendance to lectures@napier.ac.uk.