Across the Plains with Other Memories and Essays, 1892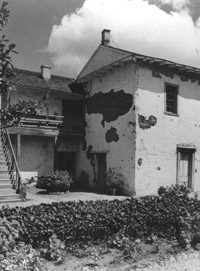 Across the Plains Contents
"Epilogue to An Inland Voyage" (1888)
"The Lantern Bearers" (1888)
"A Chapter on Dreams" (1888)
"Beggars" (1888)
"Contributions to the History of Fife: Random Memories" (1888)
"The Education of an Engineer: More Random Memories" (1888)
"Across the Plains: Leaves from the Notebook of an Emigrant between New York and San Francisco" (1883)
"A Letter to a Young Gentleman who Proposes to Embrace the Career of Art" (1888)

"The Old Pacific Capital" (1880)
"Fontainebleau" (1884)
"Pulvis et Umbra" (1888)
"A Christmas Sermon" (1888)
Note: Across the Plains has been included in the travel writing section of this website, although it could also have been placed in the essays section. Stevenson's work does not always fit into strict categories, and often cuts across genres. It has been included here because many of the essays in the volume address places RLS has visited.
"Across the Plains: Leaves from the Notebook of an Emigrant Between New York and San Francisco" (1883)
The first part of The Amateur Emigrant was ready to be published, but was withdrawn in 1880. The second part was published as the essay "Across the Plains: Leaves from the Notebook of an Emigrant Between New York and San Francisco" in Longman's Magazinein 1883 – it was later included in Across the Plains with Other Memories and Essays (1892).
"Across the Plains" describes RLS's journey by train from New York to California. He had travelled from Glasgow to New York on board the Devonia and was going to California to see Fanny Van de Grift Osbourne, who would soon be his wife. The text gives a fascinating insight into what emigrant travel must have been like in the late Victorian period. For example, at first RLS travels on a mixed train. Later, the people are separated intro three cars: one for women and children, one for white men travelling alone, and one for Chinese passengers.
His train journey took from 18-30 August 1879. To read more about where RLS travelled on this journey, and his experiences in New York and California see the "Across the Plains" page in the Footsteps section of the website.
In this text RLS describes the route he took to get to California. He also describes how unwell he was during the journey: he had "never been so dog-tired" (p. 103). The cramped and unhygienic conditions of the train cars made (the weak to begin with) RLS feverish and ill.
During his journey, RLS has many difficult experiences (even aside from being constantly unwell). A child is nearly knocked over in a crush of people and RLS saves him. RLS throws juiceless oranges on the train tracks, and desperate emigrants race to get them.
Stevenson quickly learns how important the newsboy is on the emigrant train: he sells "books, papers, fruits, lollipops and cigars, and on emigrant journeys, soap, towels, tin-washing dishes, tin coffee – pitchers, coffee, tea, sugar and tinned eatables, mostly hash or beans and bacon" (p. 111). One newsboy is particularly kind to Stevenson when he realizes how ill Stevenson is. He brings RLS fruits and papers and keeps him company when Stevenson is particularly poorly.
RLS makes friends with two men on board, who he jokingly refers to as Shakespeare and Dubuque. The three of them share their finances so they can buy necessities. RLS is also briefly in charge of looking after a Dutch widow and her child (the widow is less than impressed with Stevenson). In Pittsburgh, RLS meets a black person for the first time and finds that the man is surprisingly superior and patronizing in manner. Although more open-minded than many of his contemporaries, RLS still held some of the prejudices of his time.
RLS comments on how different the United States and Europe really are. A drunk man who is thrown off the train carries a gun, which makes RLS feel the strangeness of his surroundings: "They were speaking English all about me, but I knew I was in a foreign land" (p. 103). He also notices the prejudices in the US against the Chinese and the "Red Indian". RLS sympathizes with the Native Americans, who had been driven away from their own land. Certainly Stevenson is travelling through America during a fascinating and unstable time in its history. He seems to realize this, commenting that the US has grown from "gold and lust and death" (p. 120).
"The Old Pacific Capital" (1880)
In this essay, RLS describes the "Old Pacific Capital" of California, Monterey (Monterey was the capital city of California from 1777-1849). RLS himself stayed in the city from 30 August-22 December 1879 and recorded some of his impressions and experiences in the essay. For more information about RLS in Monterey, see the page devoted to California in the Footsteps section of the website.
Stevenson is particularly interested in Monterey's landscape in "The Old Pacific Capital", describing the beaches, his solitary walks in the woods and "the haunting presence of the ocean" (p. 80). Unfortunately, he starts a forest fire in a misguided experiment to see if it is the moss on the trees that catch fire first – it is, and RLS flees the scene.
RLS describes some of Monterey's history and discusses the Mexican, American and Indian populations in the area. He writes that "The town, then, was essentially and wholly Mexican; and yet almost all of the land in the neighbourhood was held by Americans" (p. 94). In other words, while the Mexican culture is the most influential, it is the Americans who are financially successful. RLS also laments the fact that the Indians had been taught to read and follow the Christian faith – only to have their land taken from them.
Stevenson concludes that Monterey will become commercialized and that the Mexicans "must perish, like a lower race, before the millionaire vulgarians of the Big Bonanza" (p. 107).
In the mid to late 1870s, RLS was often in the Fontainebleau region of France (you can see the page devoted to Barbizon and Grez in the Footsteps section of the website for more information). Just 35 miles from Paris, Fontainebleau was a popular haunt for artists, like RLS's cousin Bob Stevenson and his friend Will H. Low. In "Fontainebleau", RLS remembers his experiences there, and reminisces about "its great and special beauty" (p. 109).
RLS describes the artist's life in Fontainebleau, where everyone lives on credit and procrastination is a way of life. He describes his visits to Barbizon and Siron's Inn where he stayed – here, the landlord "managed on easy principles" (p. 127) and the artists could drink as much and do whatever they liked. He also remembers Grez, where the bridge was a popular subject for the artists to paint. He goes on to discuss various other artist communities in the area, such as Acheres-la-Foret, Chailly-en-Biere, Recloses, Bourron-Marlotte, Nemours and Moret-sur-Loing.
Stevenson concludes his essay with a sense of nostalgia, suggesting that Fontainebleau is a place for youth. He writes: "If anywhere about that wood you meet my airy bartling, greet him with tenderness. He was a pleasant lad, though now abandoned" (p. 140).
"Epilogue to An Inland Voyage" (1888)
This essay documents a walking tour of the valley of the Loing that RLS and Walter Simpson took at the end of August in 1875. "Epilogue" is sometimes included in editions of An Inland Voyage (1878).
During the walk, as in An Inland Voyage (1878), RLS is often mistaken for a pedlar. He carries all of the works of Charles of Orleans in his knapsack, making his walk somewhat uncomfortable. As part of their journey, he and Simpson pass through Nemours and Chateau-Renard – for more details about their itinerary, see the section devoted to "Walking Tour of the Valley of the Loing" in Other France in the Footsteps section of the website.
The travellers end their tour in Chatillon-sur-Loire (RLS refers to it as Chatillon-sur-Loing), where Stevenson is arrested on suspicion of being a Germany spy: he describes this humorous incident in detail.
"Contribution the History of Fife: Random Memories" (1888)
Stevenson recounts how as a boy in 1863 he was sent to school (Burlington Lodge Academy, Spring Grove, Isleworth) but became very homesick. He remembers being overcome with sadness and weeping in the road when a cat came to console him. When his parents heard about the incident, they felt a change was needed – RLS was to go on business with his father to examine the lighthouses in Fife.
RLS describes the visit to Fife, talking about the history, landscape and legends associated with the different towns there. In particular, he remembers his visit to St Andrews (for more information you can see the section devote to St Andrews in the Fife page in the Footsteps section of the website). He also visits Magus Muir, Anstruther West, Anstruther Easter and Cellardyke.
In the essay Stevenson also describes his fascination with Balfour of Burley, the leader of the Covenanters in Walter Scott's Old Mortality (1816).
"The Education of an Engineer: More Random Memories" (1888)
In this essay RLS recounts his visit to Anstruther and Wick in the summer of 1868 as part of his "education of an engineer". You can learn more about RLS's visits to Anstruther and Wick in the Footsteps section of the website.
Of the experience, RLS writes "What I gleaned, I am sure I do not know; but indeed I had already my own private determination to be an author" (p. 189). Indeed, RLS describes his preoccupation at the time with his writing: he would spend all of his energy writing late into the night. At the time, he was feverishly working on a dramatic monologue in verse, Voces Fidelium.
Despite his distaste for engineering work, RLS remembers how enthralled he was when he went diving with Bob Bain (a friend) at Wick: "to go down in the diving-dress, that was my absorbing fancy" (p. 195). He writes that the experience was one of "fine, dizzy, muddle-headed joy [. . . ] It was one of the best things that I got from my education as an engineer" (p. 201).
Although he finds both Anstruther and Wick to be inhospitable and unforgiving places, he does insist that at least engineering work is lively outdoors work, full of dangers. The work is a respite from the "dry, and dull, and dead-alive" (p. 203) work of the office.
At the end of the essay, RLS remembers seeing two Italian children – he remarks that seeing "foreigners" in Scotland was unusual. This causes him to think about the state of immigration in Scotland compared with America. While in the States, "foreigners" are commonplace, in Scotland the "days of immigration are long at an end" (p. 205).
"The Lantern Bearers" (1888)
In "The Lantern Bearers", RLS remembers his childhood experiences in North Berwick. For more information about his visits to North Berwick, visit the Fife and Lothian pages of the Footsteps section of the website.
According to RLS, "the place was created seemingly for young gentlemen" (p. 207). He remembers the amusements the town had to offer – golf, climbing Berwick Law, and fishing expeditions. He also remembers the darker aspects of the place. For example, he recalls the fisher-wife who cut her throat. Stevenson himself saw her bloodied body being carried to prison.
His favourite past-time in North Berwick, however, was the nighttime meetings by lantern-light with the other children. They would carry their lanterns, and by the dim light, "delight themselves with inappropriate talk" (p. 215).
For Stevenson, these lantern talks came to symbolize the imagination itself and touch on what is poetic. He talks about wider themes, such as "the ground of a man's joy" (p. 224), and how the lantern evenings for him embodied that joy. He concludes that "Not only love, and the fields, and the bright face of danger, but sacrifice and death and unmerited suffering humbly supported, touch in us the vein of the poetic" (p. 228).
"A Chapter on Dreams" (1888)
Stevenson suggests that all of his published fiction might "be the single-handed product of some Brownie, some unfamiliar, some unseen collaborator, whom I keep locked in a back garret" (pp. 248-49) rather than his own "conscious ego" (p. 248). The essay's premise, that RLS's unconscious mind or his dream states are responsible for his writing, links to theories in late Victorian mental science. Mental scientists like F.W.H. Myers (1843-1901), for example, believed that the mind was doubled: there was a waking self and a second sleeping self within. Furthermore, that "secondary" self" could be responsible for actions and thoughts unknown to the conscious self.
Certainly RLS was aware of this when he wrote Jekyll and Hyde (1886 – in the essay, he claims that some of the events in the novel came to him in a dream). Myers even wrote to RLS about the work – he wanted to tell the author how Jekyll and Hyde accurately symbolized his theories on the double mind (and also how RLS could improve the work to make them even more accurate).
RLS begins the essay by remembering the childhood nightmares (brought on by illness) which he dreaded. As a student, he dreamt that he himself was leading a double life, a nightmare which troubled him so deeply that he sought help from a doctor. The notion of doubling runs throughout RLS's fiction – not only in Jekyll and Hyde, but also in "The Body Snatcher" (1884 – Fettes and Macfarlane are medical students by day and grave robbers by night), and Deacon Brodie (1880 – Deacon Brodie is the respectable cabinet-maker by day who at night robs his wealthy clients).
RLS returns to the theme of doubling – this time of his own waking and sleeping self – in "A Chapter on Dreams". He suggests that his best fiction is the product of actors in the stage of his dreaming mind. He recounts a particularly powerful story he dreamed in which a wealthy man and his son do not get along. The son goes abroad to avoid his father. While he is away, his father makes an unhappy marriage to a young woman. The son returns and he and his father argue on a cliff. The son strikes and kills the father, but the death is not seen as suspicious. Meanwhile, the young wife, now a widow, knows what the son has done. The son follows her one day to the cliff where she finds damning evidence proving he murdered his father. She nearly falls over the edge, but the son saves her. The widow does not use the evidence against him, and the son wonders what is holding her back. At last, he confronts her and she confesses that she loves him – she is hiding the evidence to protect him.
The tale enchants RLS, and although he ultimately decides that it isn't marketable, he insists that "It was not his tale; it was the little people's!" (p. 246). He suggests that much of what he writes is the product of his dreams, and that the "little people" (p. 239) in his mind labour to find stories so that he can make a living from his writing.
Stevenson remembers some of the "beggars" he has met in his life. When he was young, he befriended an old soldier beggar, who loved the poetry of Shelley and Keats. He recalls another beggar, a knife-grinder who RLS spoke to daily. Unlike the old soldier, the knife-grinder took no joy in the poetry of letters – he preferred the poetry of life.
RLS goes on to discuss the problem that beggars pose to the conscience – we give money to beggars to appease our conscience and then hurry on. Stevenson then talks about wider themes, like the act of giving itself: "What an art it is to give, even to our nearest friends! And what a test of manners to receive!" (p. 268). Words like gratitude and charity are meaningless. In life, friendship is where real help comes from.
The essay also asks whether or not there is such a thing as "the Deserving Poor" (p. 270). Stevenson suggests, however, that it is as foolish to look for the "Deserving Poor" as it is to search for the Elixir of Life.
There is a way, however, to help the poor – the "unfortunate gentleman [. . .] may subscribe to pay the taxes" (p. 271). This solution is unsatisfactory, though, as RLS points out (his irony now becoming clear in the essay): "But, alas! there is no colour of romance in such a course; and people nowhere demand the picturesque so much as in their virtues" (p. 271).
"A Letter to a Young Gentleman who Propose to Embrace the Career of Art" (1888)
RLS addresses the question of whether or not a young gentleman should follow a career in art. He warns that in the end, the gentleman must decide for himself – Stevenson can only give him the materials to help him make an informed decision.
For Stevenson, "To know what you like is the beginning of wisdom and of old age. Youth is wholly experimental" (p. 272). Furthermore, "if a man love the labour of any trade [. . .] the gods have called him" (p. 275).
RLS also offers practical advice: to succeed in a career of art, you must work hard and be devoted to your trade. You must always strive for a better quality of work and you should remember that the aim of art is to please. It is important to pave your way financially before you take any risks in your art. If you cannot bring yourself to work for money, then you should choose a different path than the career of the artist. You must be able to accept criticism and the fact that your work might not be popular.
The reward of a career in art is being able to live life to the fullest – you cannot expect a financial reward.
The title of this essay is taken from Horace, the lyric poet in Latin. In full, Horace writes "Pulvis et umbra sumus" – "We are but dust and shadow". In the essay, Stevenson questions the nature of mankind and their place in the universe. He writes "The human race is a thing more ancient than the ten commandments; and the bones and the revolutions of the Kosmos, in whose joints we are but moss and fungus, are more ancient still" (p. 290).
RLS also considers evolution and revolutions in science, and what this means for mankind. He exclaims, "what a monstrous spectre is this man" (p. 293), in a discussion of the way man feeds, kills, grows and reproduces in order to survive. For RLS, man's natural life cycle and actions are "a thing to set children screaming" (p. 293).
Nevertheless, RLS suggests that we should pity man, who cannot control his innate impulses. Although "Man is indeed marked for failure in his efforts to do right" (p. 296), it is remarkable that he still strives on and continues to hope.
In evolutionary terms men do not stand apart from other species. RLS sees the same laws and sins of men amongst the ants. He concludes "Let it be enough for faith, that the whole creation groans in mortal frailty, strives with unconquerable constancy: surely not in vain" (p. 301).
"A Christmas Sermon" (1888)
RLS addresses themes of death – what does a man's life amount to once he has died? How do we account for our lives? We feel that we have never done enough and that trying to be kind and honest is too simple. We want to have done "something bold, arduous, conclusive" (p. 307) in our lives. Thoughts like these come to the fore at Christmas – Christmas is a time when we assess what we have achieved and how we must improve.
Stevenson advises that in fact that the best thing we can do is to be honest and kind. We should make our families and friends happy, and be a friend to ourselves. Furthermore "a man is not to expect happiness, only to profit by it gladly when it shall arise" (p. 311).
Although we may regret some of the things from our past, we should relish the small joys in life. Stevenson thinks that there is nothing to be ashamed of in an epitaph that would read "Here lies one who meant well, tried a little, failed much" (p. 315). He concludes with a poem by W.E. Henley (from A Book of Verses [D. Nutt, 1888]), which suggests that in death we accept that the life that we have lived:
"A late lark twitters from the quiet skies;
And from the west,
Where the sun, his day's work ended,
Lingers as in content,
There falls on the old, gray city
An influence luminous and serene,
A shining peace.
"So be my passing!
My task accomplished and the long day done,
My wages taken, and in my heart
Some late lark singing,
Let me be gathered to the quiet west,
The sundown splendid and serene,
Death."
The smoke ascends
In a rosy-and-golden haze. The spires
Shine, and are changed. In the valley
Shadows rise. The lark sings on. The sun,
Closing his benediction,
Sinks, and the darkening air
Thrills with a sense of the triumphing night –
Night, with her train of stars
And her great gift of sleep.
(Quoted in Across the Plains, pp. 316-17)
All Quotations from RLS, Across the Plains with Other Memories and Essays (London: Chatto and Windus, 1892).