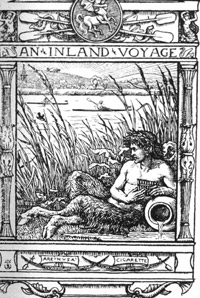 Summary
An Inland Voyage recounts a canoe trip Stevenson and his friend Sir Walter Grindlay Simpson made in 1876. Setting out from Antwerp, Stevenson (in the Arethusa) and Simpson (in the Cigarette) paddled through Belgium and France along canals and the Oise River.
Much of the travelogue relates adventures the two men had along the way. Some of the more notable incidents include the travellers' inability to use an Etna stove, watching a marionette show, and "being continually wetted with rain" (p. 91). At one point, Stevenson was left clinging to a tree after his canoe was swept away.
Stevenson also describes many of the interesting people he and Simpson met. These included members of the Royal Sport Nautique and a family that lived on a barge.
Thoughts on wider issues – such as the French character and politics, religion, and the artist's role in society – also feature.
The text includes, too, several philosophic moments, such as the following:
"You may paddle all day long; but it is when you come back at nightfall, and look in the familiar room, that you find Love or Death awaiting you beside the stove; and the most beautiful adventures are not those we go to seek" (p. 121).
For more information on the route RLS and Simpson took on their "inland voyage", see the Rivers in Northern France and Belgium pages of the Footsteps section.
Some editions contain a section called "Epilogue to An Inland Voyage". Despite the title, this text actually documents a walking tour Stevenson and Simpson made in France the year before, in 1875. The most exciting moment came when Stevenson was arrested on suspicion of being a Germany spy.
For more information about where Stevenson and Simpson went on their walking tour, see the page devoted to the Valley of the Loing in the Footsteps section.
Quotations from An Inland Voyage, The Works of Robert Louis Stevenson, Swanston edn, vol i (London: Chatto and Windus, 1911).