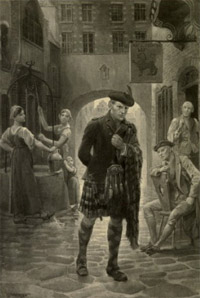 Ballads Contents
"The Song of Rahero: A Legend of Tahiti"
I. The Slaying of Tamatea; II. The Venging of Tamatea; III. Rahero; Notes to the Song of Rahero
"The Feast of Famine: Marquesan Manners"
I. The Priest's Vigil; II. The Lovers; III. The Feast IV. The Raid; Notes to the Feast of Famine
"Ticonderoga: A Legend of the West Highlands"
I. The Saying of the Name; II. The Seeking of the Name; III. The Place of the Name; Notes to Ticonderoga
"Heather Ale: A Galloway Legend"
Note to Heather Ale
"Christmas at Sea"
Soon after leaving San Francisco in June 1888 Stevenson knew he wanted to stay in the South Seas and write a "big book" about its culture and society, and in 1890, when Ballads was published, he decided to settle permanently in Samoa. Yet at the same time in his imagination he continued to vividly inhabit the "hills of home". Ballads is an intriguing collection of narrative poems in which RLS puts side-by-side these two worlds: the new world of the South Seas (in "The Song of Rahero", a tale of Tahiti, and in "The Feast of Famine", a patchwork of "the more striking particulars of the Marquesas"), and his homeland of Scotland (in "Ticonderoga" and "Heather Ale", two Highland legends).
The theme of all the poems is, essentially, "ye maun dree your weird" (you have to accept destiny): for these are all tales of revenge, sacrifice and fate. The two South Sea ballads move towards their unstoppable conclusions with driving rhythm. They also contain many details of local life and customs (explained in Notes at the end). But the stand-out poem of the collection is "Ticonderoga", a haunting ballad of inescapable retribution.
The final poem, "Christmas at Sea" is judged as certainly the best by David Fergus ("A Major Minor Poet?",textualities, http://textualities.net/david-fergus/a-major-minor-poet/). It lends the whole collection a psychological twist, with its narrator aboard a storm-tossed ship on Christmas Day imagining his parents at home sitting by the fire: "But all that I could think of, in the darkness and the cold,/ Was just that I was leaving home and my folks were growing old."
By Mike David and Richard Dury
Image from RLS, A Child's Garden of Verses, Underwoods, Ballads, Ballads and Other Poems by Robert Louis Stevenson, vol xvi (New York: Charles Scribner's Sons, 1903).