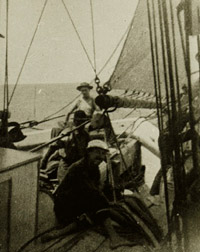 Read the Virtual Book | View Images
Summary
Towards the end of the Equator cruise, RLS started trying to put together the material he had collected about South Seas culture, language, traditions and society: anthropology, history, sociology together with personal impressions. He had already agreed with S. S. McClure (in 1888) to sell him "letters" from the South Seas to be syndicated in newspapers and magazines. These he hoped to use for materials for the "big book" on the Pacific.
The volume published as In the South Seas was edited by Sidney Colvin and published after RLS's death in 1896.
RLS felt he had unique material: "such wild stories, such beautiful scenes, such singular intimacies, such manners and traditions, so incredible a mixture of the beautiful and horrible, the savage and civilised. […] I propose to call the book The South Seas…"
(Letter from RLS to Sidney Colvin, 2 December 1889, The Letters of Robert Louis Stevenson, ed. by Bradford A. Booth and Ernest Mehew, vol vi [New Haven: Yale University Press, 1995], p. 335).
He worked on the material for two years, from October 1889 to the autumn of 1891, but then had to abandon the work. In part, this was because he was unable to find the right form. It was also partly because he was discouraged by the opposition of his wife and friends, who probably wanted the anecdotes of a debonair traveller, as in Travels with a Donkey (1879). He was also discouraged by the reactions of the publishers of the magazine letters. Stevenson wanted to go beyond the amusing traveller-centred narrative of a journey that his friends and editors wanted, and wanted to find a more theme-based form.
Neil Rennie judges In the South Seas to be "a classic of Pacific writing" and refers to Joseph Conrad's admiration for the work ("Introduction", In the South Seas [London: Penguin, 1998], pp. xxx – xxxi).