Memories and Portraits, 1887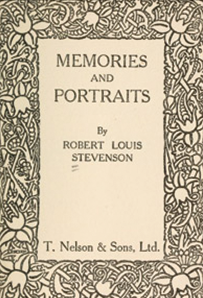 Memories and Portraits Contents
"The Foreigner at Home" (1882)
"Some College Memories" (1886)
"Old Mortality" (1884)
"An Old Scotch Gardener" (1871)
"Pastoral" (1887)
"The Manse" (1887)
"A Humble Remonstrance" (1884)
"A College Magazine" (not previously published)
"A Penny Plain and Twopence Coloured" (1884)

"A Gossip on Romance" (1882)
"Talk and Talkers: I" (1882)
"Talk and Talkers: II" (1882)
"Memoirs of an Islet" (not previously published)
"The Character of Dogs" (1884)
"Thomas Stevenson, Civil Engineer" (1887)
"A Gossip on a Novel of Dumas's" (not previously published)
Overview of Memories and Portraits
The sixteen essays of the collection cover a wide range. The first eleven consists of personal memories (and portraits) of family and friends. Indeed, apart from his exuberant and very candid letters, Memories and Portraits is the nearest thing to an autobiography published by Stevenson.
The very first essay is about his memories as a Scot of his first contacts with England ("The Foreigner Abroad"). The collection then continues with memories of early life in Scotland (childhood memories of Swanston, Colinton and Cramond; reminiscences of his University days and his time on the Isle of Erraid while training to be an engineer). In "A College Magazine", he describes with endearing honesty how he "played the sedulous ape" to great writers of the past, while searching for a style of his own. (This statement became a popular stick for unfriendly critics to beat him with during his life and after.) This group of essays ends with a tender, but very honest, portrait of his recently deceased father and a brilliant analysis of conversation and celebration of friendship in "Talk and Talkers".
The last five essays are more varied. They include "The Character of Dogs", in which dogs are playfully compared, sociologically and psychologically, with humans, who turn out to be by no means the superior animal. The last four essays are brilliant critical essays and "literary manifestos". "A Penny Plain and Twopence Coloured" is a beautiful, evocative piece about Skelt's Juvenile Drama, the toy theatre of his youth and develops into a theory of the importance of the imagination in human perception. In "A Gossip on a Novel of Dumas's" he remembers and celebrates the pleasures of reading and re-reading.
Two "literary manifestos" end the volume. These belong to the important theoretical essays written in the 1880s in which RLS was thinking through his own transition from essayist to novelist. Only two of them, the ones in this volume, were collected during RLS's lifetime: "A Gossip on Romance", and "A Humble Remonstrance". Three others, originally published in magazines, were only republished after his death: "The Morality of the Profession of Letters", "A Note on Realism" and "On Some Technical Elements of Style in Literature".
"A Gossip on Romance" was written at the same time as the early chapters of Treasure Island and can be seen as a guide to how to read it. Romance is seen as a constant element of human psychology. It is involved in irrational and amoral responses to circumstances and allows the reader to confront subconscious desires and urges. The essay is indeed a notable contribution to the psychology of reading pleasure.
The book ends with one of the most significant essays RLS ever wrote, "A Humble Remonstrance". Written in response to some opinions expressed in print by Henry James about the importance of truth to the novelist's work, Stevenson's piece marks the beginning of the first real debate about the art of fiction. As in the other critical essays in the volume, great emphasis is placed on the role of imagination in reading and in people's lives. RLS's reply pleased James for its intelligence and style and initiated ten years of mutually nourishing friendship with James, cut short only by RLS's early death.
The essays are all written in Stevenson's brilliant essayistic style: charmingly egotistical, playful, false-stepping the amused reader with unusual uses of words, but at the same time records of intelligent thought, all the while scattering aphorisms impressive for their brevity and concentration of thought: "Drama is the poetry of conduct, romance the poetry of circumstance."
By Mike David and Richard Dury
Image from RLS, Memories and Portraits (London: T. Nelson & Sons, Ltd, n.d.).