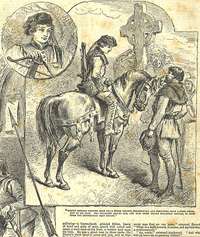 Summary
The Black Arrow: A Tale of Two Roses is set during the Wars of the Roses (1453-1487). These were a series of civil wars between the houses of Lancaster and York who were fighting for the English throne.
In the novel, Richard Shelton (Dick) lives as Sir Daniel Brackley's ward at Tunstall Moat House.
A group of outlaws known as "The Black Arrow", strike, killing Nicholas Appleyard. They leave a message warning that they will also kill Brackley, and his men Bennet Hatch and Oliver Oates. Their note implies that Dick's father, Harry Shelton, died under suspicious circumstances. Dick, who doesn't know how his father died, wonders if Brackley was responsible.
Dick now goes to Kettley to tell Brackley what has been happening. While there, he meets a young man, John Matcham. Matcham is actually Joanna Sedley, an heiress, that Brackley has captured and disguised as a boy. He plans to marry her to Dick.
Brackley tells Dick to return to Tunstall with a letter. On the way, Dick meets Matcham, who has escaped from Brackley and is being pursued by his men. Dick agrees to help Matcham get to safety.
Dick and Matcham spot a gathering of The Black Arrows. They overhear the leader, Ellis Duckworth, making plans to attack Brackley and his men. They also accuse Brackley of murdering Dick's father.
Dick and Matcham now hide, but are discovered by Brackley who is disguised as a blind leper. He takes them to Tunstall Moat House, where Dick learns Brackley did murder his father. Dick also learns Matcham is really Joanna and the two confess their love. Realizing his life is in danger, Dick escapes and joins The Black Arrows.
Months pass and Dick learns that Brackley plans to marry Joanna to Lord Shoreby. In an effort to rescue her, he and The Black Arrows fight by land and sea. They steal a ship, The Good Hope, from Captain Arblaster, but their attack is unsuccessful.
Dick also befriends Lord Foxham, Joanna's guardian. When Foxham learns Brackley planned to marry her to Shoreby, he is enraged – he had planned to marry her to Hamley. Foxham, now wounded, asks Dick to rendezvous with Hamley in his place. He also gives him a letter saying that he, Dick, will marry Joanna. Dick, who supports York, will also give papers about the Lancastrian forces to Richard of Gloucester (later Richard III).
Dick and Lawless (one of The Black Arrows) now disguise themselves as Friars to try and rescue Joanna. Joanna's friend Alicia Risingham sees through the disguise, and takes Dick to Joanna. A spy enters the room and Dick kills him. He finds a letter on the body which says that Shoreby has been treacherously corresponding with the House of York.
The house is now in uproar while men search for the spy's murderer. Dick pretends to be a monk who will pray over the spy's body in the church. Lawless now tells Dick that Ellis Duckworth and The Black Arrows plan to stop the marriage.
The marriage ceremony begins when black arrows fly through the air, killing Shoreby and wounding Brackley. Ellis and The Black Arrows then make their escape. Dick is blamed, but Earl Risingham (Alicia's uncle) steps forward – he wants to hear Dick's side of the story.
Dick gives Risingham (who supports Lancaster) the letter he found with the spy. Although Dick confesses he too supports York, he is opposed to traitors. He also shows Risingham the letter Brackley had asked him to deliver to Tunstall Moat. The letters says that Brackley offered Risingham's estate to Wensleydale. Enraged, Risingham frees Dick and Lawless.
Dick now retrieves the papers about the Lancastrian forces Foxham had given him. When he meets with Richard of Gloucester, this information helps them to win for York in the Battle of Shoreby. Richard knights Dick and gives him fifty men to find Brackley. He also offers him any service he wishes. Dick asks that he release Captain Arblaster (he feels guilty about tricking the man earlier and taking his ship).
Dick now pursues Brackley. He finds Alicia Risingham along the way, who is angry that Dick fought against her uncle's forces. At last, they come across Brackley's camp. Dick fights and kills Bennet Hatch. His men falter, however, and Dick retreats. He finds Joanna and she, Alicia and Dick head to Holywood.
Brackley comes to Holywood seeking sanctuary. Dick challenges him to a duel, but as Brackley turns he is shot with a black arrow. He dies in Dick's arms. Ellis, the shooter, is ashamed that he killed Brackley in such a cowardly manner and disbands The Black Arrows.
At the end of the story, Alicia plans to marry Hamley, and Dick and Joanna marry. Lawless joins an Abbey as Brother Honestus, ending his days in piety.