Travels with a Donkey in the Cevennes, 1879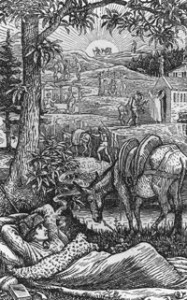 Travels with a Donkey describes Stevenson's hiking trip in the Cevennes, in South-Central France.
The narrative largely focuses on Stevenson's humorous descriptions of his stubborn travel companion, Modestine the donkey. Stevenson bought Modestine to carry his belongings for the journey. However, Modestine walks so slowly that Stevenson is
"kept [. . . ] hanging on each foot for an incredible length of time; in five minutes it exhausted the spirit and set up a fever in all the muscles of the leg. And yet I had to keep close at hand and measure my advance exactly upon hers; for if I dropped a few yards into the rear, or went a few yards ahead, Modestine came instantly to a halt and began to browse" (pp. 149-50).
As in An Inland Voyage, Stevenson is mistaken several times for a pedlar. During his travels he often sleeps under the stars, in a special sleeping-sack made for him in Le Puy.
Possibly thinking of his blossoming romance with the woman who would later become his wife, Fanny Van de Grift Osbourne, he writes that "to live out of doors with the woman a man loves is of all lives the most complete and free" (p. 208).
In his travels, Stevenson visits the monastery Lady of the Snows where a country parish priest and an old soldier are horrified to find that Stevenson is a heretic. He also makes observations about French life, religion and politics throughout the work.
When he discovers that Modestine is unfit for further travel, he decides to sell her, but suddenly realizes how much he will miss her:
"For twelve days we had been fast companions; we had travelled upwards of a hundred and twenty miles, crossed several respectable ridges, and jogged along with our six legs by many a rocky and many a boggy by-road. After the first day, although sometimes I was hurt and distant in manner, I still kept my patience; and as for her, poor soul! She had come to regard me as a god. She loved to eat out of my hand. She was patient, elegant in form, the colour of an ideal mouse, and inimitably small. Her faults were those of her race and sex; her virtues were her own. Farewell, and if for ever_______
Father Adam wept when he solder her to me; after I had sold her in my turn I was tempted to follow his example; and being alone with a stage-driver and four or five agreeable young men, I did not hesitate to yield to my emotion" (p. 254).
Note: The fragment "A Mountain Town in France" (included in some editions of Travels with a Donkey) was intended as the opening chapter for Travels with a Donkey.
In the fragment, Stevenson describes his visit to Le Monastier, a town of lace-makers. Their livelihood, Stevenson suggests is threatened by changing demand – lace-making is no longer profitable.