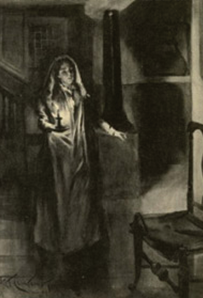 Summary
In Weir of Hermiston, Adam Weir marries Jeannie Rutherford of Hermiston. Weir is the Lord Justice Clerk (the most senior judge in Scotland), a severe and gruff man who uses coarse language and likes his drink. Jeannie, on the other hand is "pious, anxious, tender, tearful, and incompetent" (p. 162).
The couple have a house in George Square in Edinburgh as well as the property at Hermiston. Their son Archie is Jeannie's "next bond to life" (p. 166). Indeed, Archie takes after his mother: he has "a shivering delicacy" (p. 177) and finds his father crude.
Jeannie's religious beliefs means she often talks about the persecutions of the Covenanters and how sinful it is to judge others. One day Archie hears a mob shout at his father "Down with the persecutor! Down with Hanging Hermiston!" (p. 167). His mother's beliefs lead him to believe that his father is "the chief of sinners" (p. 169).
When Jeannie learns of Archie's loathing for his father, she is horrified. Believing she undermined Weir in Archie's eyes, her health declines sharply. Not long after, she dies, stricken with guilt.
As Archie grows up, he sees little of his father. He studies law at the University of Edinburgh and passes the bar. As a young man, he finds his father's manner and drinking abhorrent. Weir loves his son, but unfortunately is incapable of expressing his feelings.
One day, Archie sits in on a trial where his father is presiding. The accused is Duncan Jopp, a lifelong criminal. Weir is pitiless, and condemns him to death.
Repulsed by his father's callousness, Archie nevertheless attends the execution. Unable to restrain his anger, he shouts "I denounce this God-defying murder" (p.184).
Later, at a meeting of the Speculative Society, Archie tries to bring up the issue of capital punishment. Uncomfortable with his disloyalty to his father, the other members pass over the motion quickly. Afterwards, Archie speaks out again, saying "I saw that poor brute hanged this morning, and my gorge rises at it yet" (p. 186).
Disconsolately, Archie wanders the streets. Dr Gregory recognizes him and tells him that his father does care for him. Filled with remorse at publicly betraying his father, Archie returns home.
Weir has already heard of Archie's actions. He tells him he must give up law and leave Edinburgh. He will act as the laird at Hermiston, making the property a working estate again. Full of regret, Archie vows to do the best he can.
Archie's solitary behaviour earns him the name "the Recluse of Hermiston" (p. 206). The housekeeper, Kirstie, however, adores him. A distant relative of his mother, Kirstie enjoys the evening talks she shares with Archie.
One night, Kirstie tells Archie about her relatives. Her elder half-brother was Gilbert of Cauldstaneslap. Gilbert had four sons: Robert (Hob), Gilbert (Gib), Clement (Clem), and Andrew (Dand) and a daughter Christina (Kirstie).
The brothers were known as the Four Black Brothers. One day, their father had been on business, when he was attacked by thieves. He made it home, telling his sons where he'd been attacked with his dying breath. Hob crushed one of the thieves to death with his horse. A party of reinforcements interrupted the brothers – the remaining thieves were arrested rather than killed.
Now the brothers lead a quieter life. Hob, the laird, has a family. Gib is a kind of religious fanatic. Clem runs a successful business in Glasgow with his family. Dand is a shepherd and also a "local bard" (p.222). Finally, Christina lives with Clem and his wife in Glasgow.
One day Archie goes to church. Clem, his family and Christina also attend. When Archie and Christina see one another, they fall in love. Later, they meet and both are besotted with one another.
Meanwhile, Archie's former classmate Frank Innes arrives. Innes is running from the law and biding his time at Hermiston. He makes his friends by criticizing others and his obvious target is Archie, who he badmouths to the locals. Bored and mischievous, Frank figures out that Archie loves Christina. He warns him to be careful – would Weir ever accept Christina as a daughter-in-law?
Kirstie is also worried about the burgeoning relationship. She asks him to promise that no harm will come to Christina.
Archie meets Christina and tells her about the warnings from Innes and Kirstie. Christina becomes upset and angry, and Archie holds her.
Note: Weir finishes with the words "It seemed unprovoked, a wilful convulsion of brute nature. . . ." (p. 283).
Stevenson never finished the novel, and was working on it on the morning of his death. Some editions include a note from Sir Sidney Colvin. Colvin gives Belle's understanding of how Stevenson intended to end the novel: Archie avoids further compromising conduct with Christina, Innes courts her instead and she falls pregnant. Archie confronts Innes, kills him on the moor and is arrested. Meanwhile the Four Black Brothers seek vengeance for their sister's honour (they think Archie is the father). Archie is tried before his own father and condemned to death. Kirstie learns Innes was the father and tells the brothers who break Archie out of prison. Archie and Christina escape to America and Weir dies of shock after the trial.
Colvin raises some questions about whether or not this plot would have made up the final novel. For example, in the legal system would Adam Weir have tried his own son? Would an escape to happiness have been the conclusion to this dark tale? Colvin also suggests that Adam Weir was based on the Lord Justice Clerk Robert Macqueen, Lord Braxfield (1722-1799).
Quotations from Weir of Hermiston, The Works of Robert Louis Stevenson, Swanston edn, vol xix (London: Chatto and Windus, 1911).
Image from RLS, Weir of Hermiston, The Plays and Fables, Letters and Miscellanies of Robert Louis Stevenson, vol xx (New York: Charles Scribner's Sons, 1907).