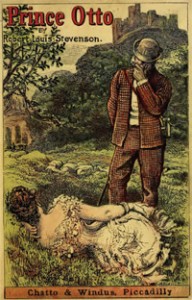 Summary
Prince Otto of Grunewald is widely regarded by his people as an incompetent fool, incapable of ruling the kingdom.
One night, Otto conceals his true identity and stays with the farmer Killian and his family. Not knowing Otto is the prince, the family discuss how much they despise him. Learning that they risk eviction, Otto vows to buy the farm and give Killian the lease.
Otto hears rumours that his wife, Princess Amalia Seraphina is having an affair with Baron Gondremark, with whom she effectively rules the country. He consults with Dr Gotthold and asks him whether he should become more involved with the affairs of state. Gotthold, however, argues that Otto would be incapable of being an effective ruler.
Chancellor Greisengesang now brings news that Sir John Crabtree, an English traveler and guest at Grunewald, is being held against his will and his papers seized. When Otto demands to see the papers, he finds Crabtree has been writing a damning account of Grunewald. The papers insult Otto and mention the affair between Seraphina and Gondremark. They also suggest that Gondremark has a mistress, the Baroness Von Rosen. Angered, but wanting to do the right thing, Otto releases Crabtree. Crabtree now feels he has misjudged Otto and will destroy the papers.
The Prince then confesses his love to Seraphina and tries to persuade her to see less of Gondremark to avoid scandal. Mortified that what she considers to be a political alliance has been construed as an affair, she starts an argument.
Meanwhile, Gotthold has sent Otto a message to let him know that the Council has been secretly summoned. Otto decides to attend. He finds that Gondremark and the Princess have been trying to get an order passed to declare war with the neighbouring kingdom, Gerolstein. Otto disapproves and dissolves the Council, but first asks for money to buy Killian's farm. The Council deny him, saying the funds are not available.
Otto then plots with Baroness Von Rosen to steal the money from the treasury. She brings him him her own money, however, and reveals that the Princess was never Gondremark's mistress.
Meanwhile, the Princess receives a note stripping her of the right of signature (on Otto's orders). Furious and encouraged by Gondremark, she signs an order to have the Prince and Dr Gotthold locked in the Castle of Felsenburg.
Von Rosen now learns about the plot to arrest Otto and tells him on his return from purchasing Killian's farm. Because Otto loves the Princess, he submits to the arrest. He also asks Von Rosen to deliver a letter declaring his love to the Princess.
Von Rosen gives the Princess Otto's letter and a message she received from Gondremark, saying that the Princess is now entirely in his power. Realizing she loves Otto, Seraphina gives Von Rosen a letter for his release. She is also horrified at Gondremark's behaviour. When he visits her and attempts to seduce her in the mistaken belief that that is her desire, she stabs him.
A revolt then breaks out in the castle. The Princess flees into the woods, resolving to make amends with Otto.
Meanwhile, Von Rosen has also fled, unaware of the revolt or that Gondremark is wounded. She goes to Felsenberg and gives Otto the letter of release. On the road, he meets Crabtree, who tells him the Princess is ahead of him and that the kingdom is in revolt. When Von Rosen hears that Gondremark is wounded she gallops away to be by his side, revealing she has always loved him. The Prince and the Princess are reunited and they vow to begin their relationship anew.
Image from RLS, Prince Otto (London: Chatto and Windus, 1886).